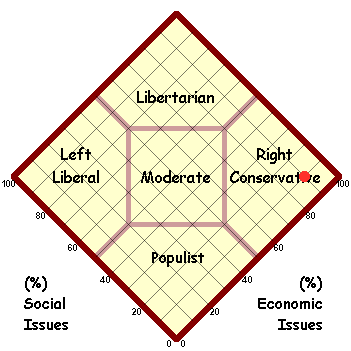 Chart positioning Cornyn at the
left
isn't much more than I would need to convince myself but after listening to this idiot today on C-Span I couldn't stand it. So you get a small rant from willis.
Pastor
John

Hagee
supports
Cornyn
with financial contributions (along with
Huckabible
and
McSame
). I don't care if its legal or not. Both are way right and way
asshat
.
Now
Cornyn
is all upset about "oversight" and vetting the new appointments from the Obama administration.
Forchrisakes
he hasn't batted an eye about oversight,
subpoena
avoidance, or spending
us
into
oblivion
for the past 8 years and now he gives a shit? I almost starting drinking at 10AM!
Cornyn
will say whatever he has to to shove his philosophy forward. He is an opportunist that will shield his lies in persuasive oratory. He'll do his campaign ad's in jeans, cowboy hat and a work shirt on the Texas prairie to
smoosh
his re-election. What's worse is he enjoys the support of most Texans. Most Texas don't even know who the new vice president is. Gads!